Our Mission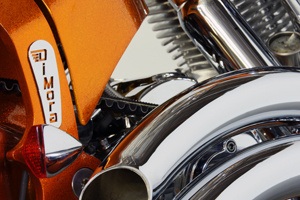 Building upon the DiMora tradition of thirty-three years of design excellence, engineering innovation, and quality craftsmanship, DiMora Custom Bikes is dedicated to building the finest and most exclusive custom motorcycles in the world. We are pioneering innovative technologies while never losing sight of old-world craftsmanship.
As part of that dedication, DiMora Custom Bikes is dedicated to supporting the highest standards of rider education for enjoyment and safety. We will work with our dealer network and accessory manufacturers to create and use the finest equipment and latest media tools to ensure our customers a safe riding experience.
We will encourage opinions and comments from our dealers, customers, and manufacturers as we continue to refine our products and programs.
We are building unique and advanced features on our website to provide our customers and dealers with education, training, DiMora Hi-Def TV, instruction, customer support, interactive design, community support, news of upcoming motorcycle events, and a host of other features.
We hope you will join the DiMora family as a friend, customer or dealer. You will always find a friendly voice at DiMora Custom Bikes.
| | |
| --- | --- |
| | |