FOR IMMEDIATE RELEASE
Media Contact:
Shannon Codner
DiMora Custom Bikes
760-832-9070
dmcpr@dimoramotorcar.com
www.dimoracustombikes.com
DiMora Custom Bikes Announces Launch of Its New Website
Palm Springs, California – February 1, 2010 – DiMora Custom Bikes, creator of the world's finest custom motorcycles, announced today the launch of their redesigned website for customers and dealers, offering simple navigation, extensive photo galleries, and detailed specifications of its custom motorcycles.
Founder and CEO Alfred J. DiMora spoke about the guiding principles behind the new website. "We strive to continually upgrade the quality, organization, usability, and advanced features of our online presence. Our new design works perfectly with our decision to begin offering our custom motorcycles through a national and international dealership network."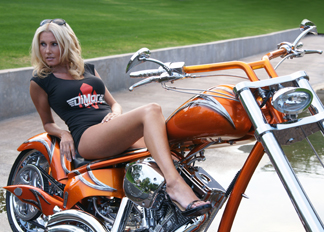 DiMora ZTango Softail Series 300
As creator of the $2 million Natalia SLS2 V16 sedan, DiMora has been a pioneer in advanced utilization of the web, making DiMora Motorcar the first auto manufacturer to reveal the design, production, and testing of its automobiles via the Internet so that people around the world can learn about them and participate in the process. In the same way, DiMora Custom Bikes will utilize DiMora TV online to bring viewers into the shop where it builds the world's most advanced motorcycles with state-of-the-art technologies.
Every DiMora motorcycle complies with U.S. Department of Transportation and California Air Resources Board standards and meets or exceeds the strict new 2010 Environmental Protection Agency requirements. Motorcycles produced for export meet all applicable standards for the destination country.
About DiMora Motorcar and DiMora Custom Bikes
Based in Palm Springs, California, DiMora Motorcar crafts automobiles designed to exceed expectations in every aspect of automotive engineering. DiMora Custom Bikes takes the DiMora passion for technological innovation and uncompromising quality that is the hallmark of the Natalia SLS 2 and brings it to the motorcycle world. Its products are available worldwide through the growing DiMora dealer network.
Alfred J. DiMora, founder and CEO, has produced two of America's finest luxury automobiles, the Clenet, as owner, and the Sceptre, as co-founder. When President Reagan declared 1986 the Centennial Year of the Gasoline-Powered Automobile, the Clenet was selected as the Official Centennial Car, resulting in honors for DiMora and the Clenet at the Automotive Hall of Fame in Michigan.
For more information, please visit www.dimoracustombikes.com.
# # #