FOR IMMEDIATE RELEASE
Media Contact:
Robert Bliss
DiMora Motorcar
760-832-9070
rbliss@dimoramotorcar.com
www.dimoramotorcar.com
DiMora Brings World's Only Tucker Convertible to Beverly Hills
Rodeo Drive Concours d'Elegance to Feature Preston Tucker's Experimental Classic
Palm Springs, California – June 10, 2010 – This Father's Day, DiMora Motorcar will bring the only Tucker Convertible ever built to the Rodeo Drive Concours d'Elegance in Beverly Hills, California.
Tucker Corporation produced 36 four-door Tucker sedans before the company folded on March 3, 1949. Using partially completed vehicles and parts from the factory, an additional 16 Tuckers were completed over the next several years.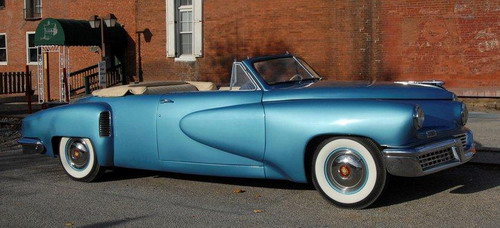 The Tucker Convertible
The experimental two-door Tucker Convertible was in development when the factory closed. In the past year, it was finally completed by Benchmark Classics of Middleton, Wisconsin. Speaking of the Rodeo Drive Concours d'Elegance, Benchmark President Justin Cole said, "I am thrilled to partner with Sir Alfred DiMora to present the Tucker Convertible alongside some of his beautiful custom motorcycles."
At the January 2010 Russo and Steele Auction in Scottsdale, Arizona, bidding on the Tucker Convertible stopped at $1.4 million, which did not reach the reserve price. The vehicle is now available for sale. Interested buyers are invited to contact Alfred DiMora.

The Rodeo Drive Concours d'Elegance runs from 10:00 AM to 4:00 PM on Sunday, June 20, on Rodeo Drive in Beverly Hills. The event is free and open to the public.
About DiMora Enterprises
Based in Palm Springs, California, the DiMora Enterprises, LLC family of companies excels in providing distinctive limited-edition transportation solutions. DiMora Motorcar is developing the $2 million V16, 1200-HP Natalia SLS 2 sport luxury sedan. It also distributes Hennessey Performance Engineering vehicles such as the Venom GT throughout the Middle East and India. DiMora Custom Bikes takes the passion for technological innovation and uncompromising quality that is the hallmark of the Natalia and brings it to motorcycles that are available worldwide through the growing DiMora dealer network.
Founder Sir Alfred J. DiMora's automotive innovations began in the 1970s, when he co-founded Sceptre Motorcar and later went on to own Clenet Coachworks, where he designed and built Clenet luxury cars. When President Reagan declared 1986 the Centennial Year of the Gasoline-Powered Automobile, the Clenet was selected as the Official Centennial Car, resulting in honors for DiMora and the Clenet at the Automotive Hall of Fame in Michigan. DiMora Enterprises continues to support Clenet owners worldwide through the Classic Clenet Club.
Please visit www.dimoramotorcar.com, www.dimoracustombikes.com, or www.clenetclub.com.
###